累计签到:58 天
连续签到:2 天

本插件包,包含目前voxengo公司所出品的多个功能插件,功能强大,自行测试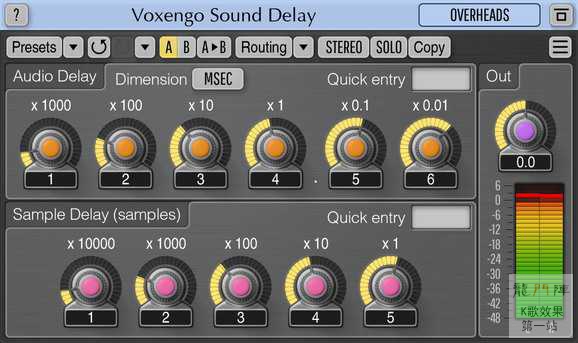 Sound Delay is an auxiliary multi-channel signal delaying AU and VST plugin for professional audio applications. You may specify delay time in both milliseconds and samples, with a high level of precision. This plug-in – being technical in its purpose – provides a basic signal delaying function only, without signal feedback or modulation capabilities.

Sound Delay also features internal mid/side encoding and decoding, and allows you to delay mid and side channels independently.




Beeper is an auxiliary audio processing AU and VST plugin which you can use to insert short beep, noise burst or silence signals to any sound material. This plug-in may help you protect your work from theft. It is safe to apply this plug-in to any mission-critical material because plug-in does not perform any processing on the audio between signals.

You may specify signal's duration, beep frequency, signal's loudness, period between signals and random variation of all parameters.




Latency Delay is an auxiliary AU and VST plugin which allows you to compensate latency produced by any audio plug-ins, instruments and processes which produce latency but do not try to report it to the host. Latency Delay introduces 10000 samples latency itself and delays the audio signal by 10000 minus the specified amount of samples or milliseconds. Please note that audio host application should support the latency compensation itself for this plug-in to function properly.




MSED is a professional audio encoder-decoder AU and VST plugin for mid-side processing which is able to encode (split) the incoming stereo signal into two components: mid-side pair, and vice versa: decode mid-side signal pair into stereo signal.

MSED is also able to work in the "inline" mode with the ability to adjust mid and side channels' gain without the need of using two plug-in instances in sequence.

You can use MSED to extract mid-side channels, swap stereo channels, switch polarity of the signal.



OldSkoolVerb is a freeware algorithmic reverberation AU and VST plug-in for professional music production applications. This plug-in implements a kind of "classic" stereo reverb algorithm which is technically simple yet optimal. It also produces a very clear spatial image that blends well with the mix.

OldSkoolVerb offers you a comprehensive set of parameters permitting you to achieve various reverbs ranging from plate to hall reverb sound. OldSkoolVerb is best suited for non-percussive and soft-attack sounds like vocals, piano and pad sounds.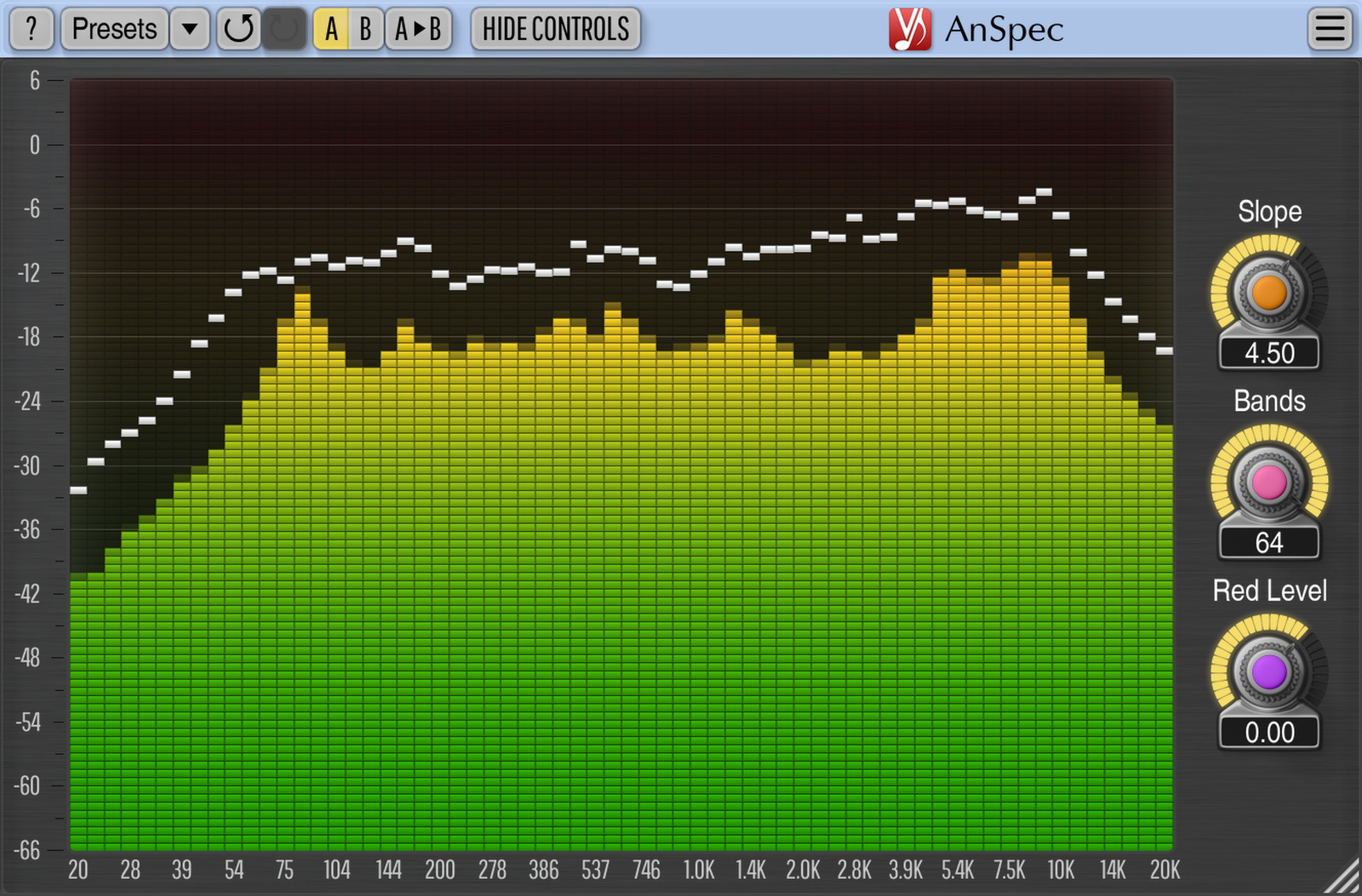 AnSpec is an analog-style third-octave spectrum analyzer plug-in for professional music production applications. It was designed to be a handy visual feedback tool for those who like smoothness and easiness of use of analog analyzers. AnSpec also provides peak level indication.

While there are no adjustable parameters available in this plug-in, you can still change level meter ballistics and resize plug-in's window.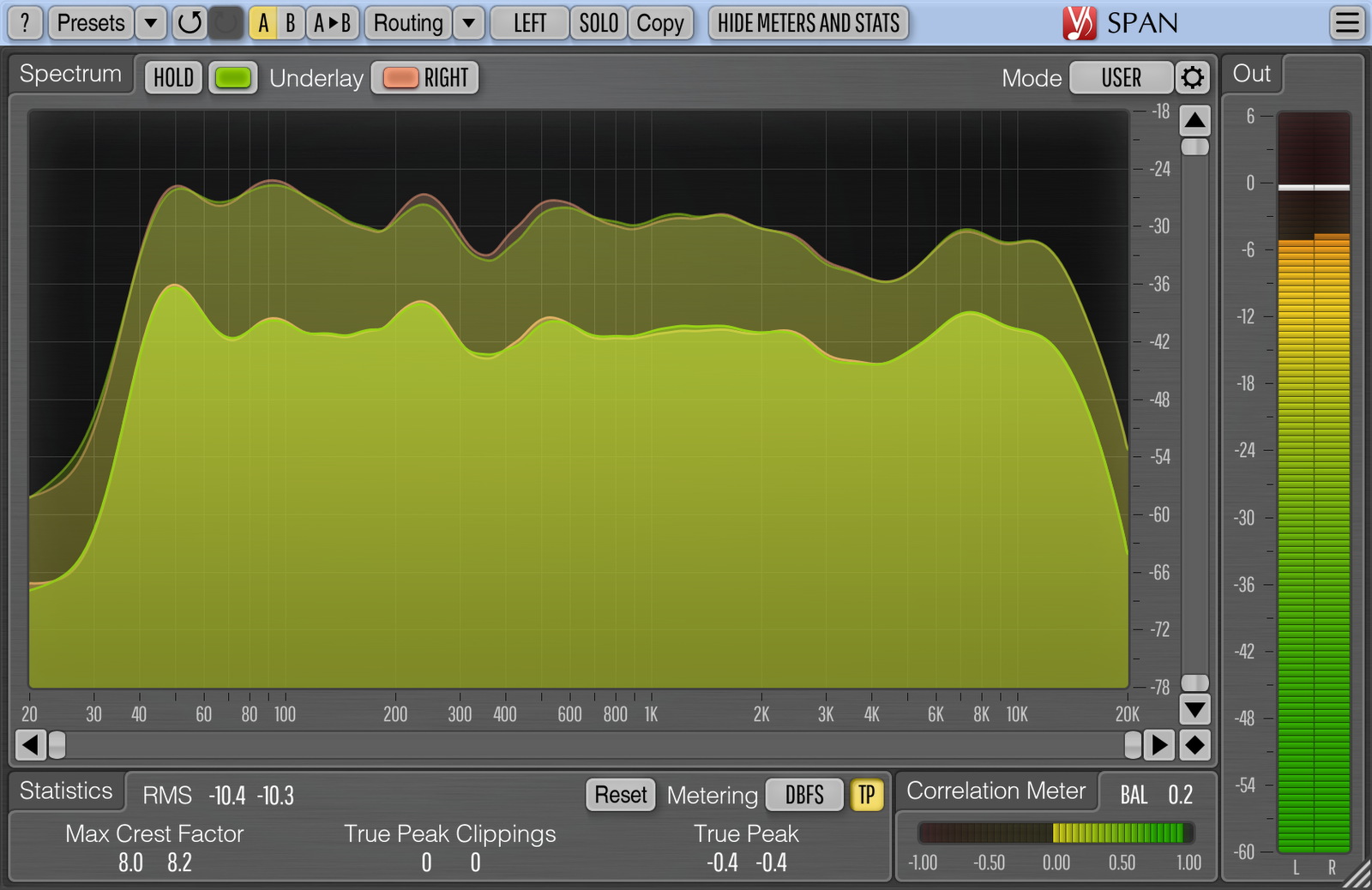 SPAN is a real-time "fast Fourier transform" audio spectrum analyzer plug-in for professional music and audio production applications. For the most part it was derived from Voxengo GlissEQ dynamic parametric equalizer and reproduces its spectrum analysis functionality.

SPAN provides you with a very flexible "mode" system which you can use to setup your spectrum analyzer preferences. You may specify Fourier block size in samples, FFT window overlap percentage, spectrum's visual slope. Beside that you can choose to display secondary spectrum of a desired type (e.g. real-time maximum, all-time maximum). Spectrum can be smoothed out visually for an easier examination.

SPAN supports multi-channel analysis and can be set to display spectrums from two different channels or channel groups at the same time. Spectrum's color can be chosen to taste.

SPAN also features output level metering with adjustable ballistics and integration time, K-metering (including calibration K-metering). SPAN displays level metering statistics, headroom estimation and clipping detection. Correlation metering is available as well.




Tube Amp is an audio effect AU and VST plugin that applies asymmetric tube triode overdrive usually found in single-tube microphone pre-amp boxes. The sound this plug-in produces varies from a mild "warm" overdrive to a fuzzy distortion.

Tube Amp also includes a -6 dB/oct low-pass filter that is built-in into plug-in's valve modeling equation, and can be used to imitate a lower-quality tube triode. Beside that, Tube Amp has a switchable output saturation stage which can be used to additionally overdrive the output signal.

Tube Amp features all standard advanced Voxengo plug-in features like full multi-channel operation, channel routing, built-in oversampling and other functions.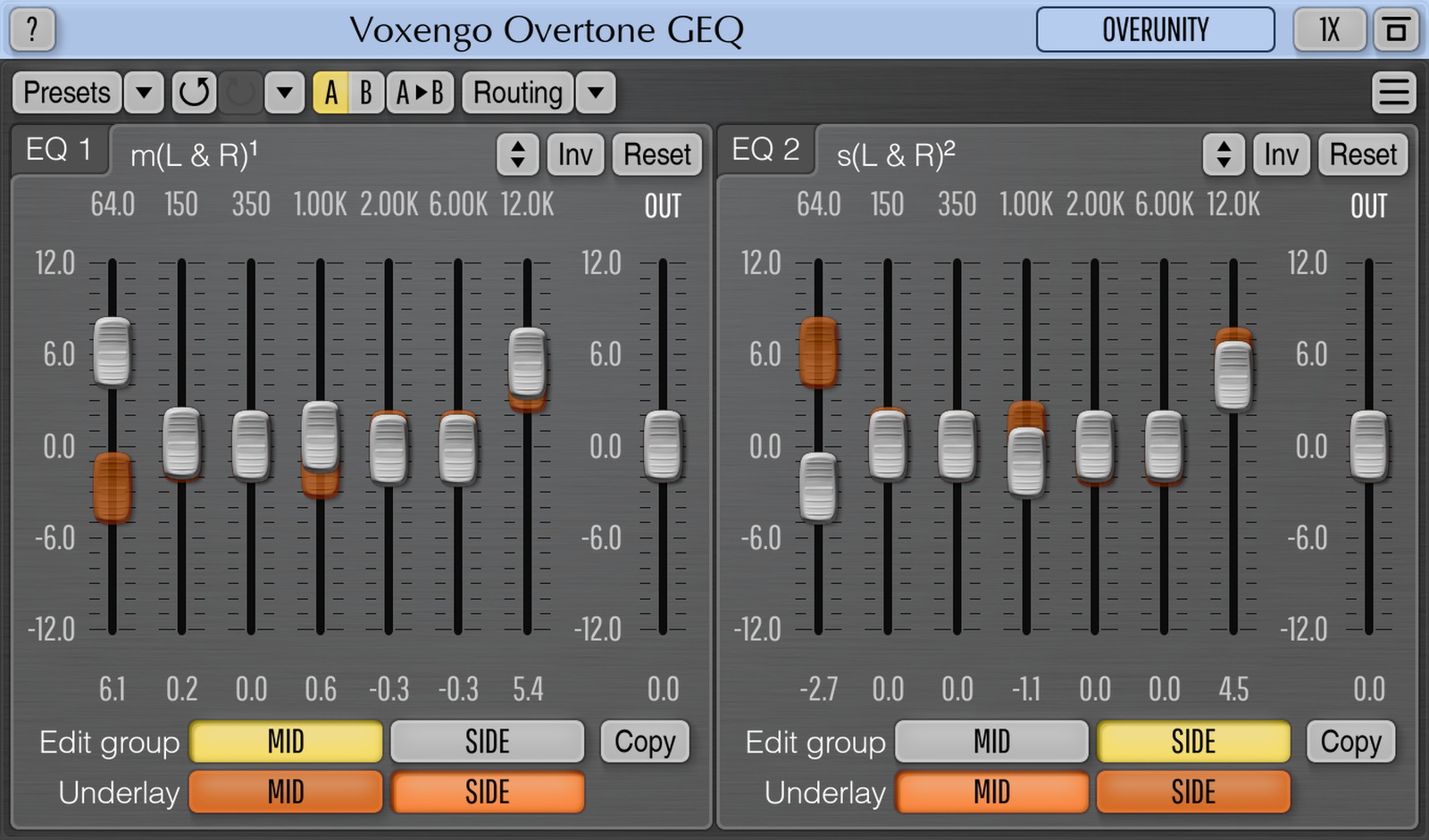 Overtone GEQ is 7-band harmonic (overtone) graphic equalizer AU and VST plugin with multi-channel operation support (supporting up to 8 input/output channels, host setup-dependent). Overtone GEQ offers extensive internal channel routing capabilities, and supports mid/side channel processing.

Beside equalizing, Overtone GEQ applies harmonic enhancement processing: it uses 7 harmonic enhancement modules, one for each EQ band. This generates a complex harmonic coloration you will probably like a lot.

Overtone GEQ was designed to allow audio engineers to apply quick EQ shape adjustments together with adding a bit of harmonic richness to the audio material (mainly mixes and sub-mixes due to a comparably high processing load this EQ puts on a CPU).



This professional audio AU and VST plugin implements a classic technique of transforming a monophonic track into spacious stereophonic track by means of mid/side coding technique.

Stereo Touch is most effective on monophonic sounds without overly sharp transients: it works great for both acoustic and electric/overdriven guitars, synthetic pad sounds and even vocals. By means of this plug-in you can easily get spacious and even "surround" sounding tracks, without utilizing a double-tracked recording technique.

Basically, the plug-in takes a mono input signal and generates a stereo output signal. Plug-in can also work with multi-channel input signal, but in this case all channels get processed independently of each other like they are separate mono input signals, and then all resulting stereo streams get mixed together to produce a single stereo output signal.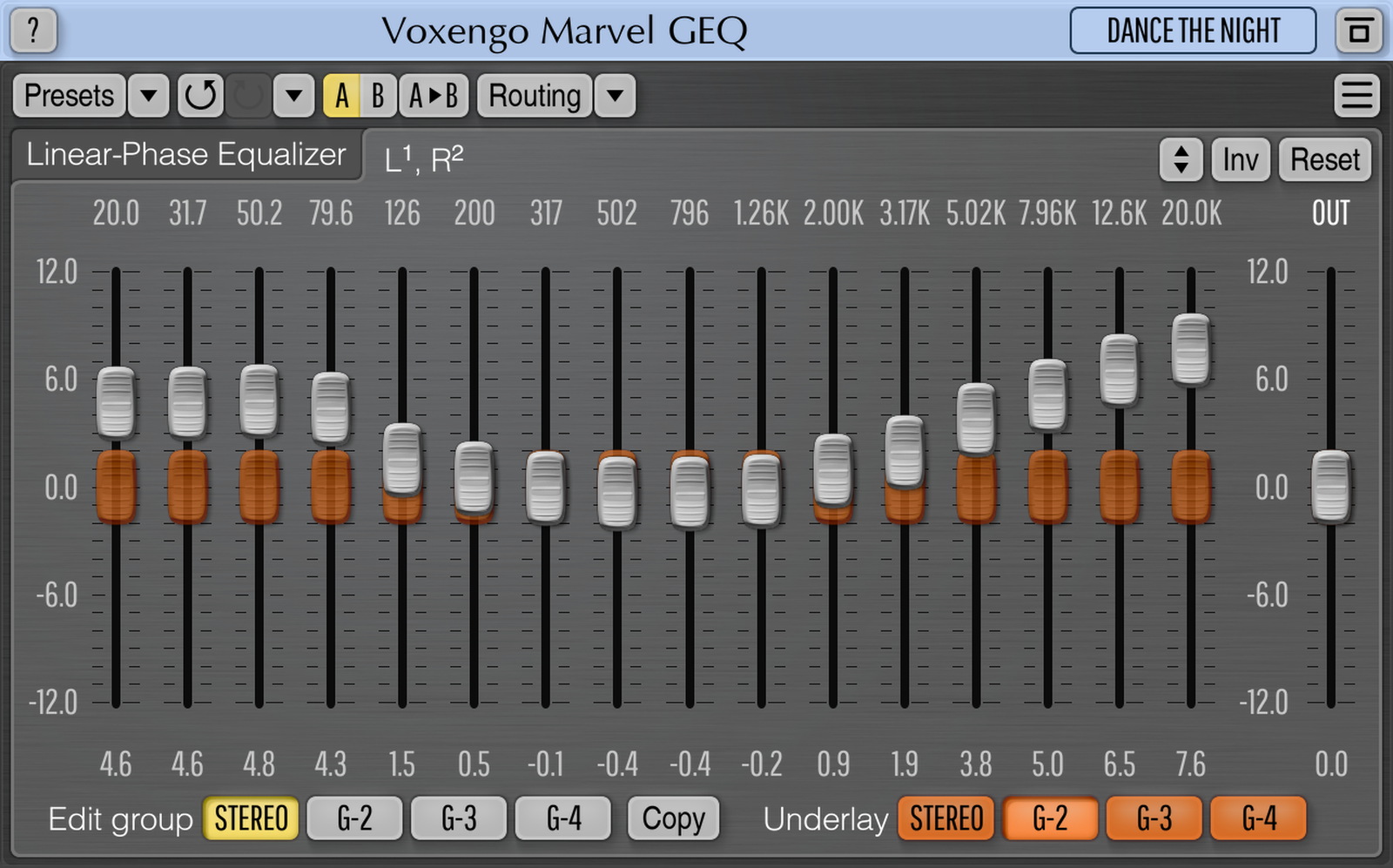 Marvel GEQ is a linear-phase 16-band graphic equalizer AU and VST plugin with multi-channel operation support (supporting up to 8 input/output channels, audio host application-dependent). Marvel GEQ offers extensive internal channel routing capabilities, and supports mid/side channel processing.

Marvel GEQ allows audio engineers and musicians to apply quick EQ shape adjustments, both to audio tracks and full mixes. The linear-phase filtering offered by Marvel GEQ is suitable for equalization tasks where high quality and excellent sonic character are a must.